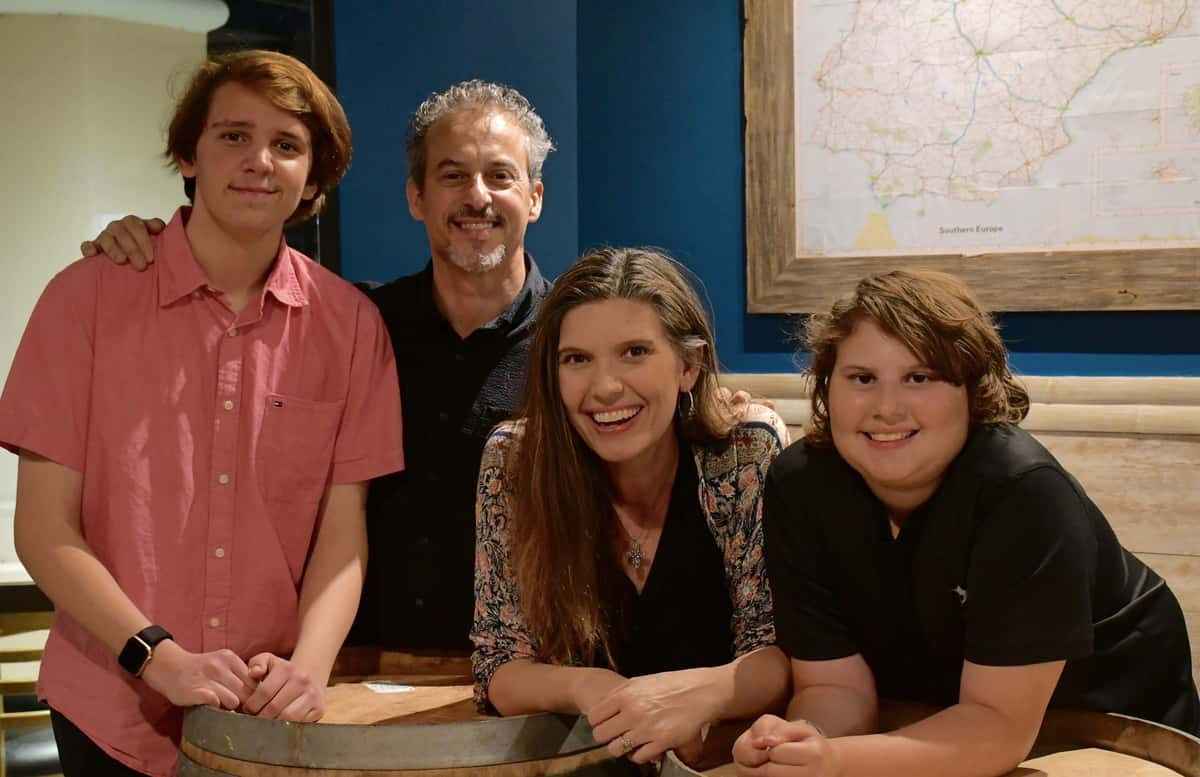 Wine Lines
Wine Lines
Because of our love of wine and travel, my travel writing journey and Luis' wine career, we've been blessed to visit, live in, and even work with incredible restauranteurs, chefs and wineries all over the world, many of them with one or both of our boys along for the adventure. In doing so, we have harvested an even greater love and appreciation for family, friends and especially each other. We take our titles of sommelier seriously.
We are stewards, and it's our responsibility to help guests have their best experiences while managing the art of the wines. Luis is like one of those guys (and we are blessed to knows many of them) you may have seen in the Somm docu-movies, a Certified Advanced Sommelier through the Court of Master Sommeliers and a Certified Wine Educator through the Guild of Sommeliers. After decades of tasting and helping Luis study for his credentials, I decided to finally get my "pin" too.

Our marriage began at the turn of the century working in hospitality in one of the hippest food and wine scenes in the world, Las Vegas, where we lived for nearly a decade. With "what matters most" changing after the birth of our first son, in 2004 we left the hustle of the bright lights to pursue a simpler life. When our baby was still too young to walk, we embarked on a 9-month, self-sponsored sabbatical through Europe to foster a deep knowledge of viticulture. We studied, dined, tasted and worked with wines everywhere grapes grow. We were seeking understanding, yet after being immersed in the historic, family-rooted culture that is winemaking in Europe, left with a whole new vision for hospitality and a life-well lived.

But, as you may agree, children need extended family and we after our European adventure came to a close, we settled back in South Florida. As Hobe Sound and Martin County residents the last decade, we longed for a place to call our own where we could share a taste of this sensational hospitality we'd experienced around the world. We wanted to invite others and serve our community, family and friends with a taste of the extraordinary adventures that are food and wine, and what we've experienced around the world in this industry.

Through meals around countless tables this year of having The Grove and time spent in the vines, our faith and desire to serve others in our community have become stronger than ever, to the point where we know that the glass is not half empty, nor half full, but amazingly, always full. When life presents challenges, there's no better time to count your blessings and slowly, thoughtfully, appreciate a glass of good wine.

This last few months, the world of hospitality and gathering has had to look very different for most of us due to COVID-19. As a race— the human race— we all have fabulous times, memories, and countless friends we've gathered with around the table, many of them at restaurant or friends tables, often with a toast. Let's be honest. We miss those days.

When we lived in Italy, we were surrounded by groves of agricultural growth- olives, peaches, vineyards, lemons. We want you to experience a heart of service when you're at our place, and be inspired to pay that forward. Even if it's bringing your meal curbside to your car or delivering your paired wine dinner virtually, our family and our team are here to serve you and help educate you, making vine culture approachable for everyone. As The Grove, we aim to bring a fresh twist to your view of Italian cuisine, and to hospitality, and be a place that inspires our community grow deep roots and produce good fruit, together, even if we're six feet apart.
Please, connect with us on Facebook and Instagram to share your favorite hospitality stories. Let us know what you want to learn about in this new wine column, and check out our new Wines to Go website, where you'll find our scheduled virtual wine dinners classes, tastings, Harvest Wine Club, and more online at www.TheGroveHobeSound.com

Send us an email at jen@TheGroveHobeSound.com or give us a call at 772-402-5410. We're happy to help you with all wine related questions and answers. Cheers!