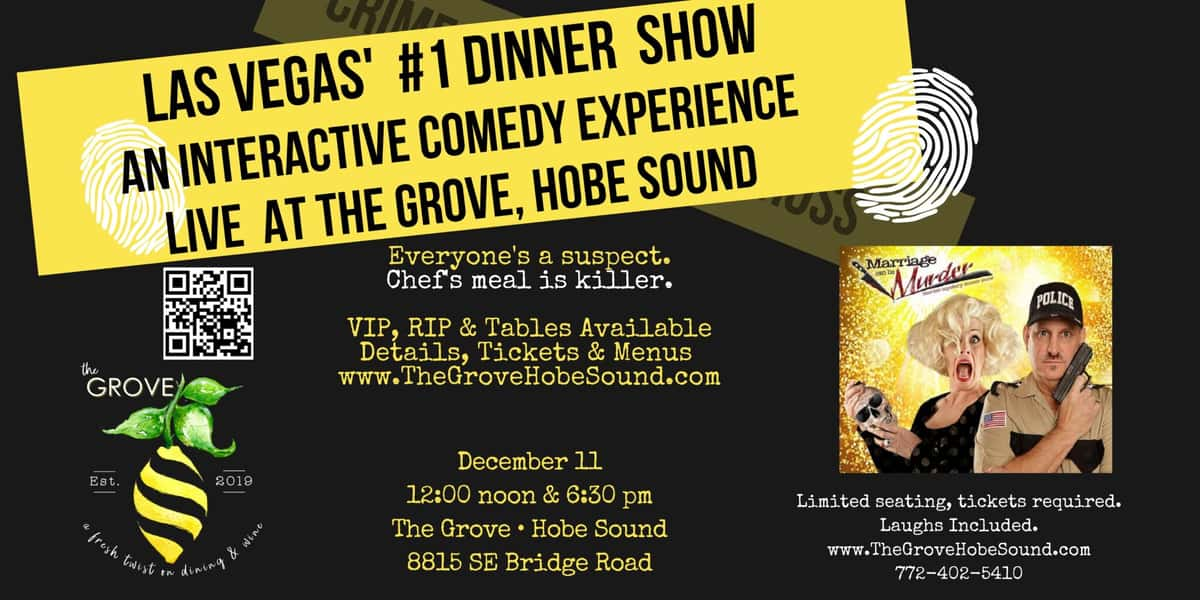 Las Vegas #1 Dinner Show, An Interactive Experience live at The Grove
Vegas' #1 Comedy Dinner Show in Hobe Sound!
Las Vegas' #1 Interactive Comedy Dinner Experience comes to the Treasure Coast!
Mystery, mayhem and laughs paired with Award-Winning Food & Wine at The Grove in Hobe Sound.
Join for the lunch or dinner show and upgrade to VIP, including a meet & greet, cast photos and even a Vegas-style "RIP" after-party. Limited Seating Available!
When our owners Jen & Luis "did 8 years time" living and working in Vegas hospitality– they met some really awesome people.
Two of their dearest friends are the producers, directors, and STARS of the hilarious dinner show, Marriage Can Be Murder, Vegas' #1 Dinner Show for a decade running.
We want to bring this awesome interactive comedy to you right here, at our home in Hobe Sound.
Join us – it's going to be Vegas, baby!
Tickets start at $100 (plus tax & gratuity)
Save the fees by calling The Grove at 772-402-5410
VIP & RIP (Really Important Person) Upgrades Available
Two Shows and Two Menus:
6:30 – 4-Course Paired Menu
(James Bond themed, feel free to dress the part)
Reception: Prosecco Maschio, Veneto Italy
Course One:
Sauteed Shrimp and Heirloom Tomatoes in a white cream sauce over Squid Ink pasta. 2020 Sancerre, Domaine de Grossed Pierres, Loire France.
Course Two:
Pan-seared Duck Breast over Black Truffle Mushroom Risotto with a Cherry Balsamic Glaze. 2018 Maggy Hawk, Anderson Valley California.
Main Course:
Grilled Bone-in Ribeye, Peppercorn Garlic Butter with Beet Puree & Shitake Mushrooms.
2015 Super Tuscan, Valadorna, Tuscany Italy
Homemade Dessert: English Trifle with Strawberry, Vanilla Cake and Custard Creme.
2019 Zinfandel, Neal Family Vineyards, Napa Valley California.
Evening Performance is Bond, James Bond themed, so feel free to join the fun by dressing the part.
VIP Meet & Greet with Photos and RIP after party available.
Limited Seating Available, $150 pp + Tax & Gratuity includes your meal & wines
12:00 noon- 3 Course Menu, Non-Alcoholic Fountain Drinks Included
Beer & Wines Available for an Additional Charge
Appetizer:
Choice of Tomato Basil Soup or Caesar Salad
Choose One Entree:
Penne Alfredo with Chicken
Lamb Bolognese
or
Eggplant Parmesan
House Dessert
Matinee show recommended for Ages 9 + up
Limited Seating Available, $100 pp + Tax & Gratuity
Children 9-12, $75
Call 772-402-5410 for further information or to book a private showing.